Call for Applications: Asean Queer Leadership Week Batch 2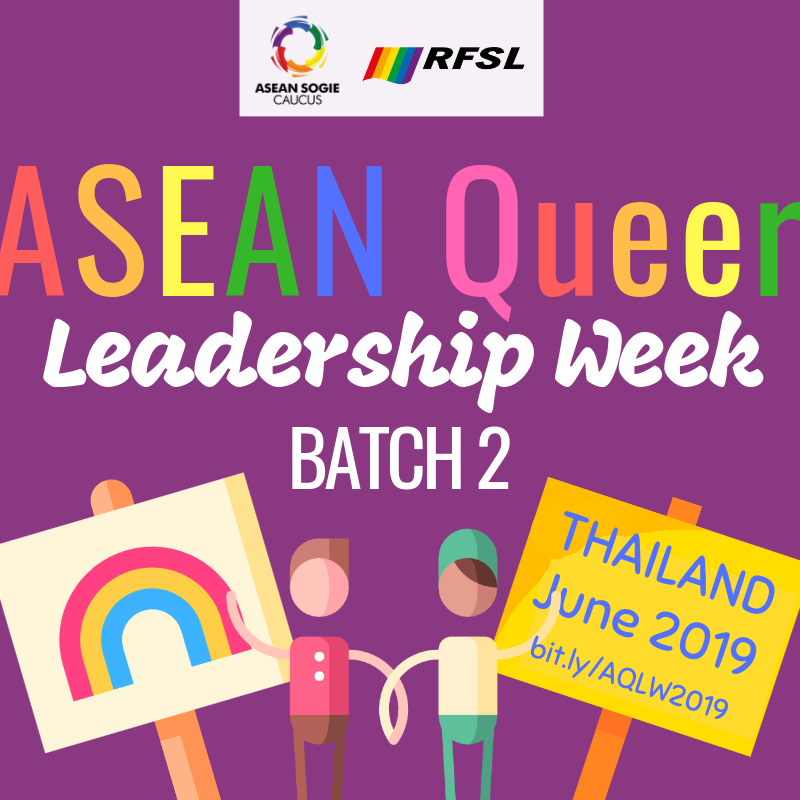 To all Southeast Asian LGBTIQ advocates:
ASEAN SOGIE Caucus, with support from the Swedish Federation for Lesbian, Gay, Bisexual and Transgender Rights (RFSL) is organizing its second ASEAN Queer Leadership Week in Bangkok, Thailand from 10 June 2019 to 14 June 2019. This program – the first of its kind to be organized by and for Southeast Asian activists – will bring together participants to an intensive one-week program where they will learn, discuss, and practice core concepts and skills in leadership in advocacy within the LGBTIQ movement in the Southeast Asian region.
This workshop is open to Southeast Asian LGBTIQ activists committed to becoming better leaders within the LGBTIQ advocacy in their organizations and communities. Priority will be given to applicants who are relatively new to the advocacy and have not had similar opportunities to join such programs. Participants will also be required to prepare action plans which can be carried out, with support from ASEAN SOGIE Caucus, after the training. This workshop will be conducted in English.
To access the application form, use this link: bit.ly/AQLW2019.
Deadline of applications is 1 April 2019. Applicants will receive updates by 15 April 2019. For more information, please feel free to contact Nguyen Hai Yen This email address is being protected from spambots. You need JavaScript enabled to view it..
Thank you for your support!
Sincerely,
Ryan V. Silverio
Regional Coordinator
ASEAN SOGIE Caucus