JOIN OUR TEAM! PART-TIME STAFF FOR COMMUNICATION, CAMPAIGN & MEDIA ENGAGEMENT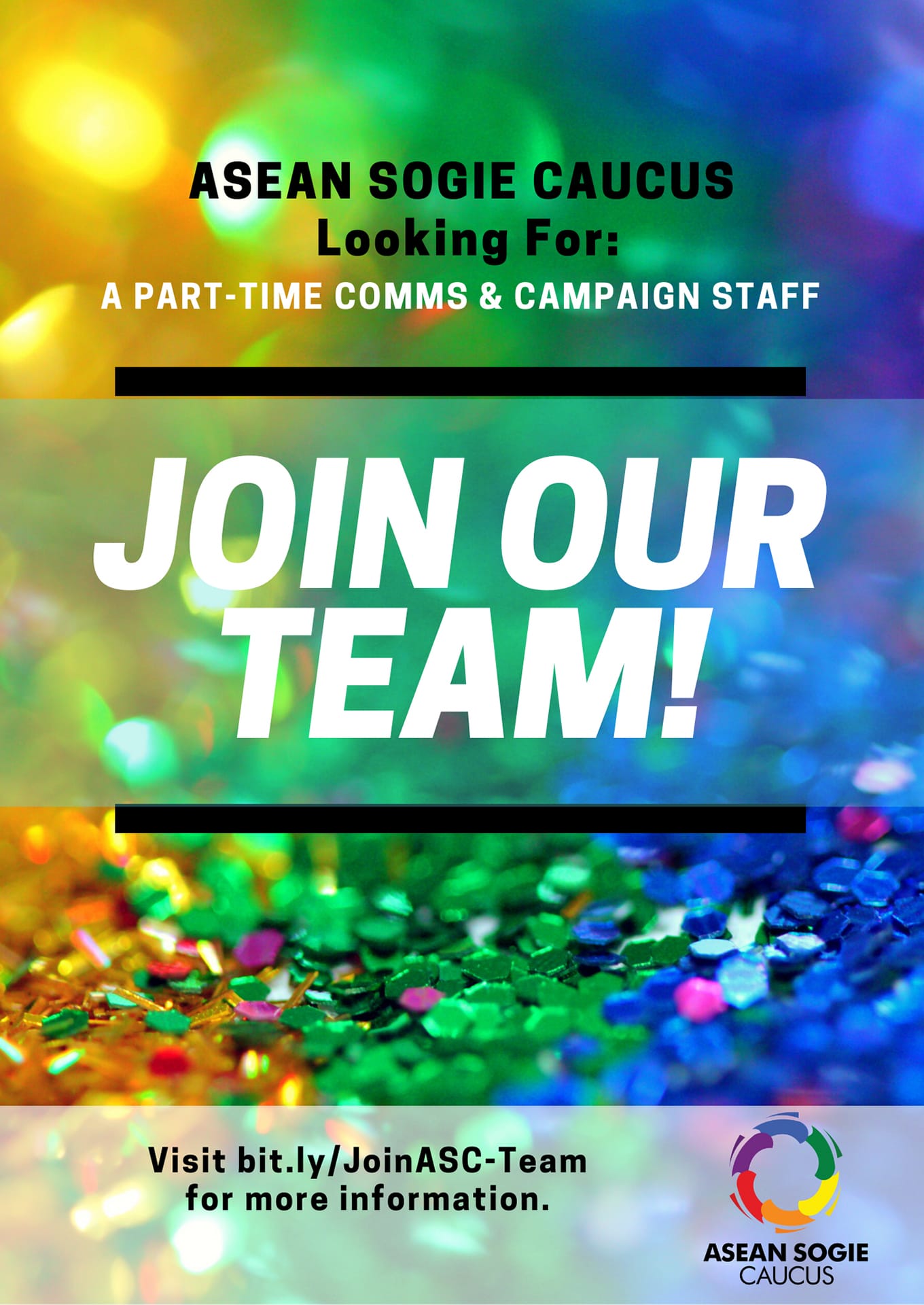 ---
| | |
| --- | --- |
| Position: | Part-time staff for Communication, Campaign and Media Engagement (20 hours per week) |
| Status: | 06 months (March to August 2020) |
| Allowance: | 350 USD/month |
| Location: | Southeast Asia (preferably Jakarta, Indonesia) |
---
The ASEAN Sexual Orientation and Gender Identity/Expression Caucus (ASC) is a regional organization of lesbian, gay, bisexual, transgender, intersex, and queer (LGBTIQ) activists in Southeast Asia that advocates and lobbies for the inclusion of sexual orientation, gender identity and expression (SOGIE) in the ASEAN. Established in 2011, ASC has actively promoted LGBTIQ rights in the region and engages with allies and institutions in civil society, governments, and other international organizations. At present, ASC is strengthening its organizational structure, systems, and processes as a fully functional non-profit organization with legal registration in Quezon City, the Philippines.
Tasks and Responsibilities
The part-time staff for communication, campaign and media engagement will report to the Advocacy Officer. Their objective is to strengthen ASC's media engagement via creating and implementing campaigns, communication and media engagement strategy and action plans. This includes, but not limited to, core messaging, creation of content, networking opportunities with media partners, perform analysis of impact and reach of social media accounts, develop tools and other materials that are necessary to accomplish specific goals, and so on. Specifically, they will:
Manage ASC's social media accounts to strengthen stakeholder engagements.
Create and produce information, education and campaign materials designed for on-line advocacy as well as developing campaign materials for important dates of women's rights, LGBTIQ rights, and human rights.
Prepare Media Engagement weekly planning with the assistance of the Advocacy Officer. Tasks include collating material to publish content on ASC's social media platforms on specified time slots, background research for various components of the media engagement strategy and action plan.
Together with Advocacy Officer, develop a strategy to strengthen media presence and branding of ASC
Prepare brief monthly reports of social media reach and media citations. This monthly report will include notes on how goals can be best achieved, what technical assistance is needed, current challenges and solution, changes to overall work schedule, as well as the analytic of social media engagement.
Qualifications Requirements
The applicant should meet the following qualifications:
Member of the LGBTIQ community that has experience in communication, public relation, or related fields with at least 2 years of experience.
Has background knowledge of human rights issues that impacted LGBTIQ people in Southeast Asia and willing to learn such information quickly and efficiently.
Strong grasp of traditional/mainstream media platforms as well as new media including social media platforms such as Twitter, IG, and Facebook.
Has ability and skills in graphic design, writing and speaking English proficiently.
Has ability in teamwork.
How to Apply
If you are interested in joining our team, please respond to this call by sending:
A cover letter summarizing your experience and qualifications.
A detailed C.V. and/or portofolio, presenting work experience, references and relevant qualifications.
Kindly send your supporting document to This email address is being protected from spambots. You need JavaScript enabled to view it. cc This email address is being protected from spambots. You need JavaScript enabled to view it. by Monday, 02 March 2020.