Human Rights of LGBTIQ Person in ASEAN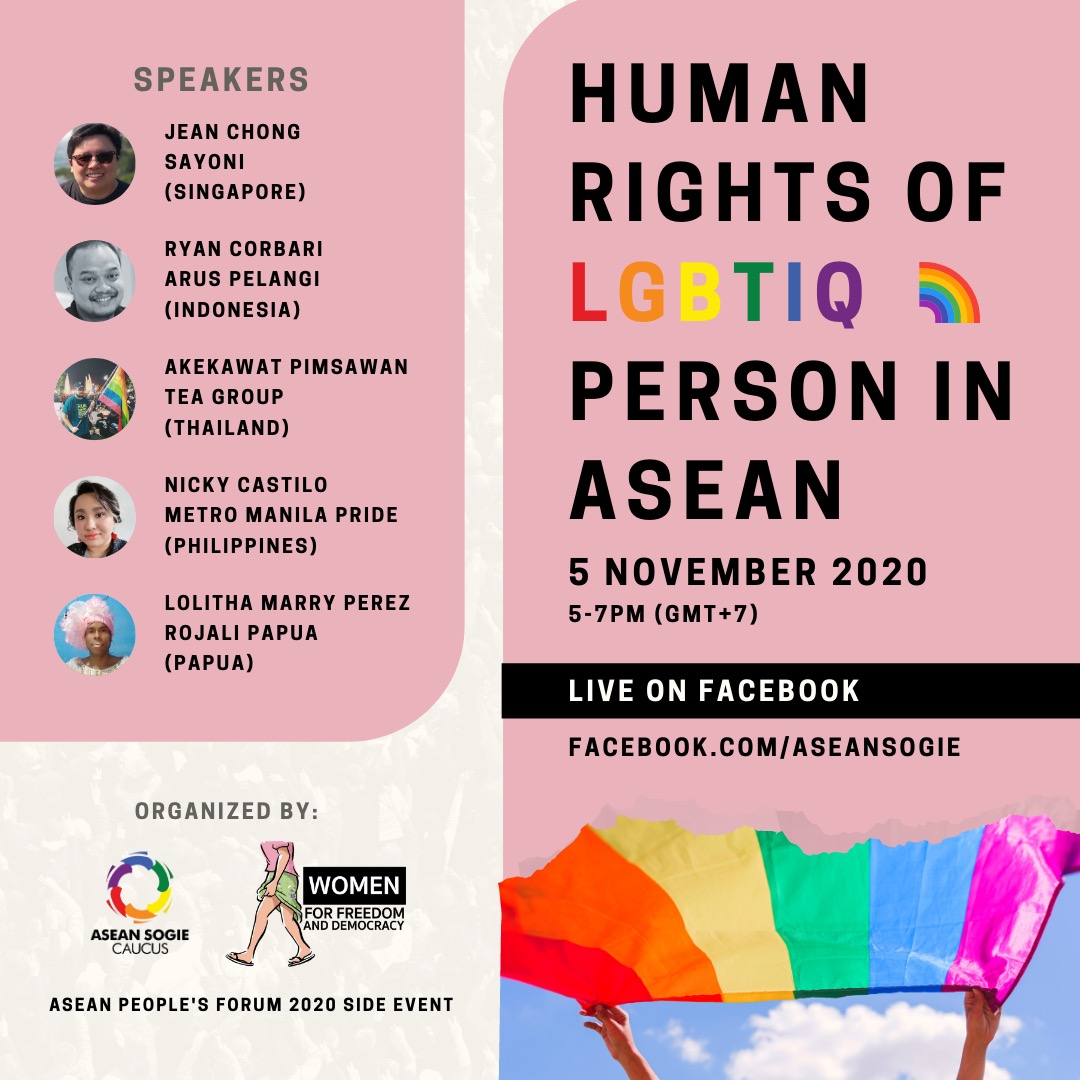 An ASEAN Peoples' Forum 2020 Side Event under Human Rights and Access to Justice
Analysis
The rights of LGBTIQ persons are neglected in almost all ASEAN countries. LGBTIQ persons are not considered part of the ASEAN Community Even if persons of diverse genders and sexualities had always existed even long before the creation of ASEAN and the institution of its modern member-states. Governments and social institutions have deliberately alienated LGBTIQ people and made them invisible by adopting and enforcing repressive laws and policies at the domestic and regional levels. This has resulted in our current situation, where LGBTIQ persons have little capacity or opportunity to enjoy and fulfil their human rights in the region.
Some ASEAN members were former colonies of the British Empire, namely Singapore, Malaysia, Brunei and Myanmar. With the empire came laws that criminalized non-heterosexual sexual relations under so-called "crimes against nature". Attempts in Singapore have been made to repeal them, but have so far been unsuccessful. Thailand appears to be the most LGBTIQ-friendly country in the region through its popular tourism, but there is still very little legal protection for LGBTIQ persons there, and many Thai LGBTIQ activists see that their human rights would not be protected or fulfilled under the democracy co-opted by the junta and the monarchy. Activists have pushed for a comprehensive marriage equality bill, but the present military government had proposed a weaker alternative to legislate same-sex civil unions that do not confer the same rights.
Similarly in Indonesia, LGBTIQ persons now live in fear because of the rampant criminalization and pathologization of government officials and policymakers, whether through revisions of the criminal code, a so-called Family Resilience bill, and the passing of the neoliberal and anti-people legislation called the Omnibus Law. In the Philippines, the journey to passing a national anti-discrimination bill inclusive of SOGIESC is facing difficult challenges.
Before the pandemic hit the region, LGBTIQ persons in ASEAN faced injustices; daily life bullying experience both online and offline, murder, drop out from the schools and universities, and most of us can only work in informacl sector like beauty salon, creative and production house, club etc. The pandemic has only worsened. Speakers from the Philippines, Indonesia, Thailand, Singapore and Papua reported that many of the LGBTIQ persons lost their income while they could not access official disaster relief / covid-19 relief from the state due to lack of ID card as well as discrimantion act.
Recommendations addressed to ASEAN Member States:
The side event agrees to call on all the ASEAN states member to be on the side of equality and justice by:
Revoking and repealing all anti people policy: Omnibus Law on Job Creation in Indonesia, Anti Terror Law in Philippine, Section 377a in Singapore penal code, and reform of the monarchy and change to the current constitution in Thailand
Recognizing the long-standing discrimination and violence againts LGBTIQ persons by issuing an AICHR-ACWC joint report on the extent of human rights violations committed on the basis of SOGIE.
Recommendation to broader civil society or social justice movement in ASEAN:
Continue to recognize and address the discrimination and violence against LGBTIQ persons, as integral in our collective work for justice and democracy.
---
ASEAN Civil Society Conference / ASEAN Peoples' Forum 2020, Vietnam.
Convergence space:
Human Rights and Access To Justice
Workshops:
Side Event 'Human Rights of LGBTIQ Persons in ASEAN'
Time:
November 5th 2020 at 5-7pm
Speakers:

Pe Akekawat- TEA Togetherness For Equality and Action, Thailand
Jean Chong - Sayoni, Singapore
Ryan Korbarri - Arus Pelangi, Indonesia
Lolita- ROJALI, Papua
Nicky Castilo - Metro Manila Pride, Philippines
---
Organizer: ASEAN SOGIE Caucus & Women for Freedom and Democracy Thailand
Watch the video here https://www.facebook.com/aseansogie/videos/709015689742157/