Democracy Talk on Human Rights Violations and Police Brutality in Thailand and Indonesia uprising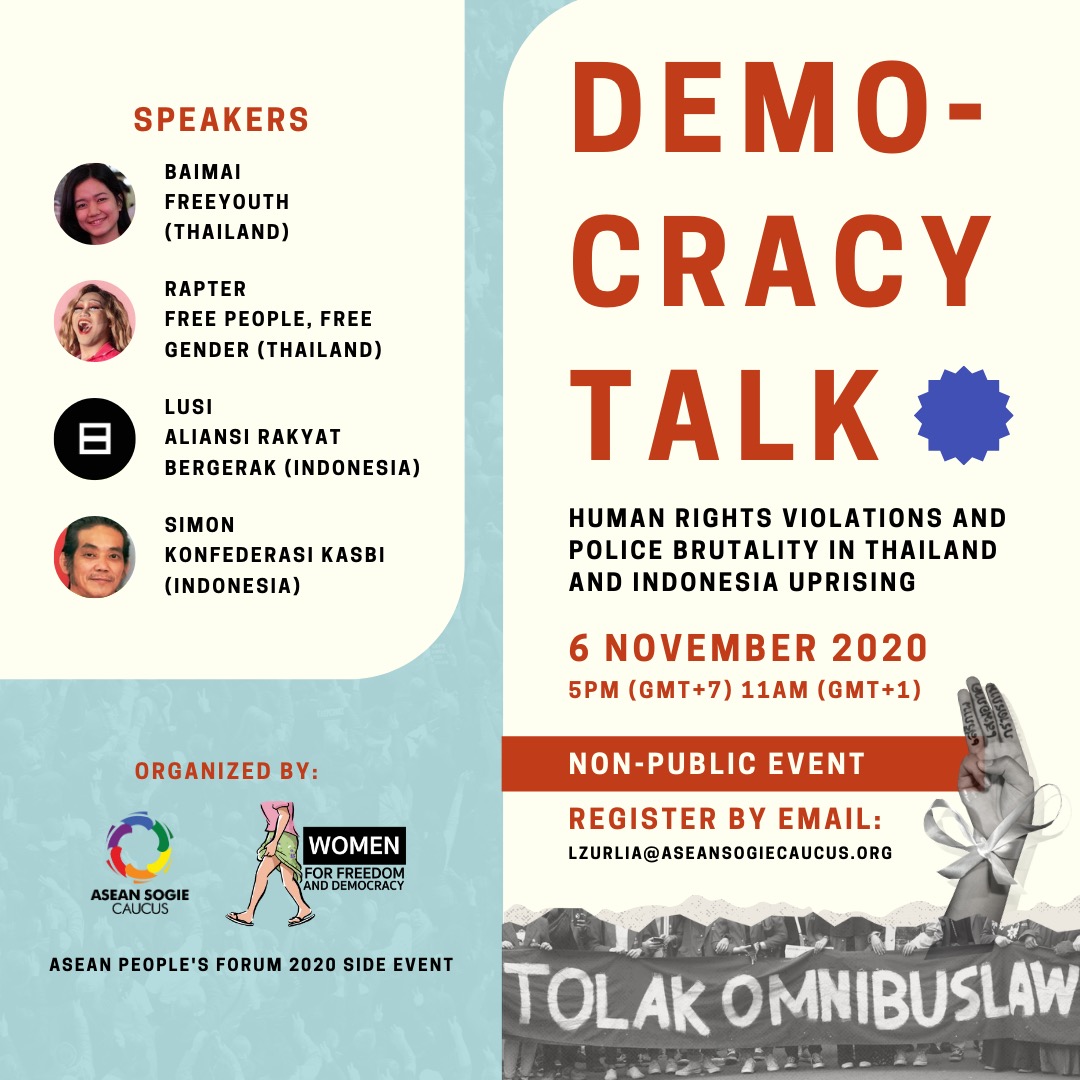 An ASEAN Peoples' Forum 2020 Side Event under Human Rights and Access to Justice
Analysis
The non-violent and peaceful uprising of people's power taking to the streets to demand for substantive democracy are currently taking place in Indonesia and Thailand. These movements, which are being led by marginalized groups like LGBTIQ persons, women, children and young people, are direct responses to corruption by governments. Thai people are fed up with the rules of the military and the monarchy in co-opting democracy while Indonesians are angry at their legislative and executive powers that favor the rich in order to enrich and strengthen the oligarch by passing the Omnibus Law on Job Creation, a new liberal law. People are taking to the streets to demand justice and substantive democracy while Thai and Indonesian governments use violent police and military forces to silence them. State-led brutality is evident in each protest.
In Thailand, the protest has been going on since February, spread out all over the country. In each protest, the police launched attacks through the use of force and unlawful arrests to disperse organizers and protestors. Three demands from the protest include: 1.) the resignation of Prime Minister Prayuth Chan-O-Cha, leading to the dissolvement of Parliament, 2.) the revision of the current Constitution; and 3.) the reform of Monarchy. Harassing and attacking peaceful protestors has been the government's main response to these demands.
In Indonesia, the people's movement announced a vote of no confidence in the government and House of Representatives. People are now fighting against the oligarchic regime. Two speakers from Indonesia mentioned that police also used force to silent the protest, they use paramilitary groups or police with plain clothes to harass and attack the protesters. As of today, November 6th 2020, there are more than 7000 protestors arrested and detained before and during the waves of protest from October 5th to the present. Some of them were beaten up before getting arrested. Many other journalists were harassed by the police while covering the protest. Government propaganda has framed the protesters as "rioters".
Recommendations addressed to ASEAN Member States:
This side event agree to call on ASEAN states member to:
Listen to the people's demands in Indonesia and Thailand by pushing Indonesia government to revoke Omnibus Law on Job Creation and Thailand government to renew the constitution, reform monarchy and dissolve the parliament; Prayut to resign.
The Thai and Indonesian governments must stop the violent use of force against the protestors. Demonstration is a constitutional right by laws both in Indonesia and Thailand, stopping people from uprising by silencing them with violence is undemocratic and inhumane.
Recommendation to the people movement:
To strengthen our social justice movement and build regional-international solidarity and let's unite to end this corrupt system and propose an alternative system that protects the vulnerable groups, and favors the poor not the rich.
---
ASEAN Civil Society Conference / ASEAN People's Forum 2020, Vietnam.
Convergence space:
Human Rights and Access To Justice
Workshops:
Side Event 'Democracy Talk on Human Rights Violations and Police Brutality in Thailand and Indonesia uprising'
Time:
November 6th 2020 at 5-7pm
Speakers:

Baimai, (FreeYOUTH) Thailand
Raptor, Free People, Free Gender Thailand
Lusi, Aliansi Rakyat Bergerak (ARB) Yogyakarta, Indonesia
Simon, Department of International Relations - Confederation of Congress of Indonesian Trade Unions Alliance (Konfederasi KASBI)
---
Organizer: ASEAN SOGIE Caucus & Women for Freedom and Democracy Thailand
Watch the event here in thai https://fb.watch/1EvsBl-_no/