Indonesia: Public Caning for Consensual Same Sex Acts against International Human Rights Law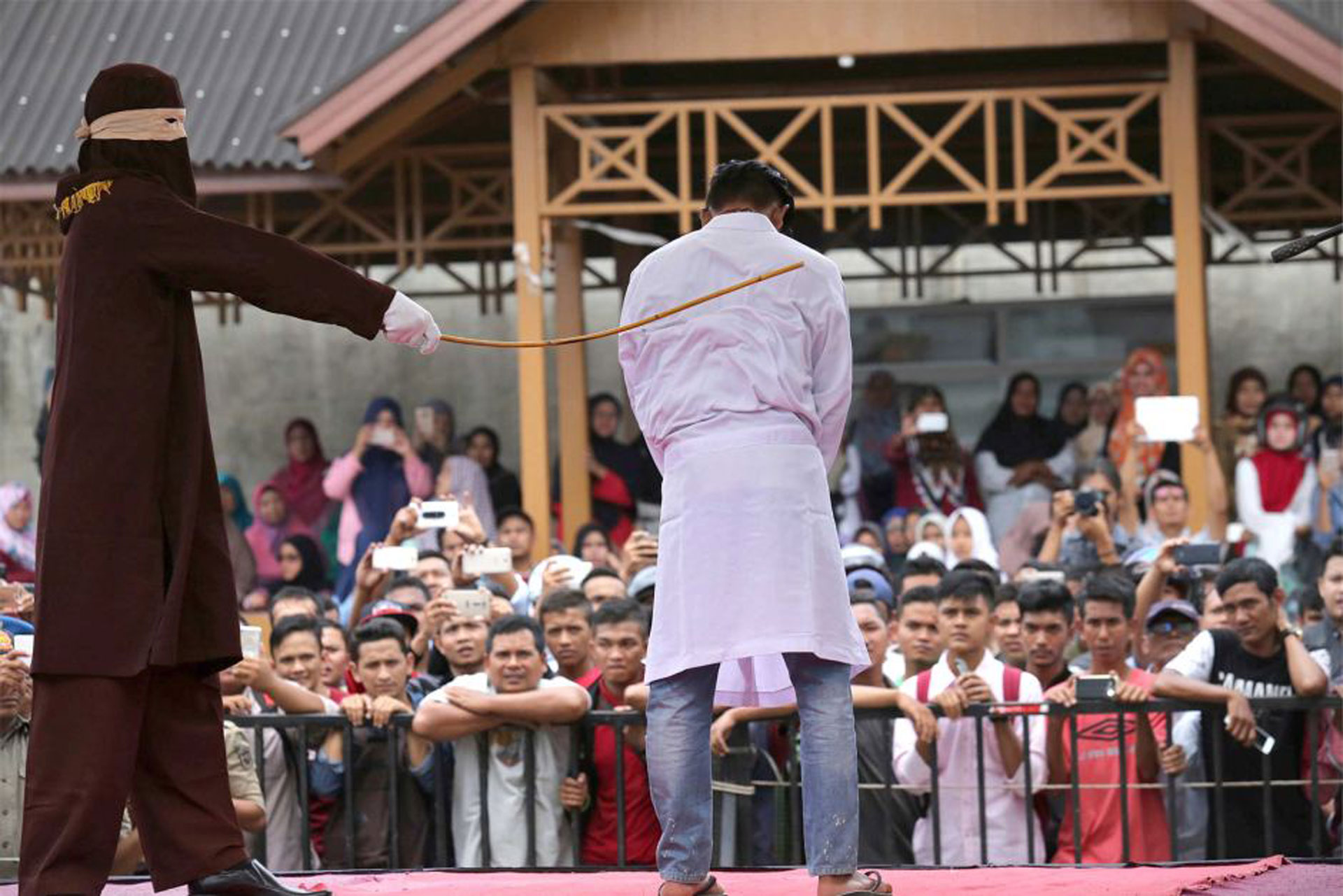 ASEAN SOGIE Caucus strongly condemns Aceh government's public caning of two men for committing consensual same-sex acts. Such public caning is a form of cruel, inhuman and degrading treatment, which is contrary to Indonesia's human rights obligations.
The punishment came after the Shariah Court's decision last May 17, 2017 which convicted the two men for violating the Shariah Law. We are deeply concerned that the Shariah Court's decision was done with highly questionable due process. The evidence used were produced under extreme duress and by compromising the right to privacy of the accused. The two accused men were attacked by vigilante groups inside their bedroom, without consent, and were threatened to make video-recorded confessions.
Reliable sources in Aceh indicate that accused were not allowed to have access to legal aid as well as access to their family members after arrest. Reports indicate that human rights lawyers who attempted to reach out to the accused were prevented by the Aceh police.
Aceh is province in Indonesia that enforces strict Shariah Law which criminalizes consensual same-sex act. Under the Qanun Jinayah 2014 article 63, Liwath (same-sex relationship between two consenting adult men) is punishable with caning 100 times or penalty of 1000 gram of gold or imprisonment for 100 months. In this recent case, the victims were punished by caning 85 times in front of public, conducted today (May 23, 2017). Not only is the law problematic, but it also reinforces social stigma towards LGBTIQ persons. The enforcement of the law leaves people open to direct attacks and harassment of persons because of their sexual orientation, and gender identity and expression (SOGIE).
We express deep concern that the Shariah Court's decision emboldens the communities as well as vigilante groups to infiltrate private spaces and harass individuals who may be alleged to engage in consensual same-sex act. As a result of the court's decision, local LGBTIQ activists in Aceh express fear that vigilante groups will not hesitate to enter their houses and rooms without their consent to threaten them.
We urge the Indonesian government to:
Put utmost effort to not allow these injustice treatments happened in the future.

Provide redress, including psycho-social support, considering the trauma and social stigma associated with the public punishment;

Ensure protection of persons fearing threats and attacks by vigilante groups because of their actual or perceived SOGIE;

Ensure the protection and privacy of the victims and witnesses during detention by impose fair trial in accordance with the Constitution as well as other International treaties ratified by Indonesia.

Repeal provisions of the Shariah Law that criminalizes consensual same-sex act.